Your Chimney Cleaning Service Expert in Tarzana & Surrounding Cities
Our chimney cleaning services can keep your fireplace in the best working condition. Contact us today to request a quote.
If you love starting fires in your fireplace on chilly winter nights, hiring a chimney cleaning company is essential. Chimney cleaning professionals have the expertise necessary to inspect your chimney and clear away any hazards that could make building a fire unsafe.
Thankfully, at Energy HVAC Service, we make the chimney cleaning process stress-free. Our top-level chimney cleaning technicians have the skills and experience necessary to provide a thorough, spotless cleaning job for all of our Tarzana customers. You can feel confident hiring our team to inspect, clean, and maintain your chimney year after year.
Professional Chimney Sweeping Company Your Tarzana Home Deserves
Scheduling regular chimney cleaning services is essential to your home's comfort and safety. Unfortunately, not cleaning your chimney regularly can create the following problems:
Reduce Heat Efficiency
One of the lesser-known purposes of a chimney is allowing oxygen to flow from outside to your fire. If your chimney is clogged, the wood in your fireplace may not be able to receive enough oxygen, preventing it from burning efficiently.
Create Carbon Monoxide Build-Up
When smoke byproducts, animal nests, leaves, or other debris accumulate in your chimney, air cannot effectively flow from the fire to the outside. Unfortunately, severely clogged chimneys can sometimes create carbon monoxide build-up in gas fireplaces, which can be toxic when inhaled.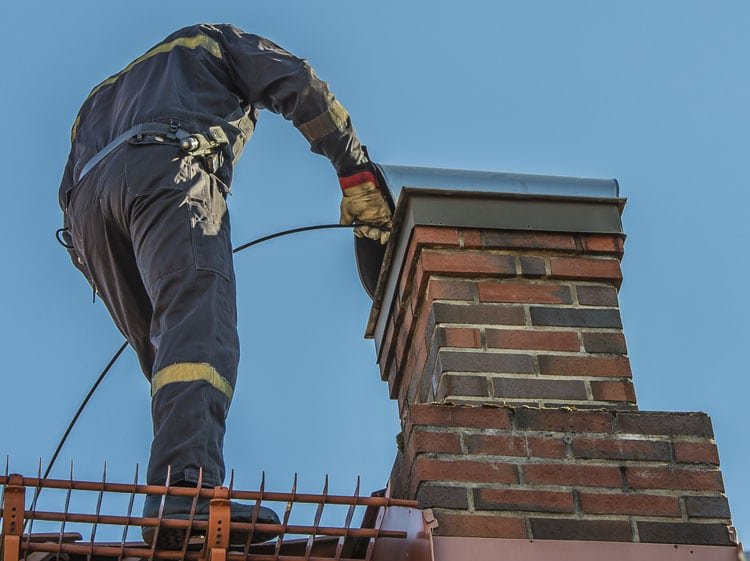 Produce Chimney Fires
Chimney fires sometimes occur when creosote, a byproduct of wood fires, remains in your chimney. This highly flammable substance can spark inside your chimney when you build fires below, producing an uncontained fire that could spread to the rest of your home.
Increase Smoke in Your Home
Chimneys allow smoke to flow from the fire to the outside without entering your home. However, if your chimney is clogged, the smoke may flow right into your living room instead, creating a toxic environment for your family.
Thankfully, preventing each of these problems is easy when you schedule a chimney cleaning with our Energy HVAC Service team.
Choose the Right Chimney Cleaning Service Contractor in Tarzana & Surrounding Cities
When you look for chimney cleaning companies near you, you want to be sure that each company uses effective processes to clean chimneys thoroughly and efficiently. At Energy HVAC Services, we follow a reliable method to clean our customers' chimneys:
Prepare the room and fireplace:

First, we'll lay tarps around your fireplace and room to prevent any ash or debris from entering your home.

Clean the chimney from the bottom up:

Next, we'll clean the chimney from the bottom up using the industry's best tools and processes.

Restore the room:

Finally, we'll remove the tarps around your chimney and clean any lingering soot or ash. We'll be sure to leave your home cleaner than we found it.
You can count on our Energy HVAC Services team to provide dependable chimney sweeping services without the stress or hassle.
Best Chimney Cleaning Service Specialist

in Tarzana & Surrounding Areas
Hiring a reliable chimney sweeping company is essential to ensuring your fireplace's safety. When you hire our Energy HVAC Services team, you can feel confident in our skills and experience to deliver trustworthy chimney sweeping services.
For more information about our chimney cleaning company, contact our team at Energy HVAC Services today.